---
Altogether, with the rescinding of RBI's 2018 crypto banking ban, traders are no longer inhibiting themselves from participating in the cryptocurrency market. Currently, the Indian crypto community is 5.5 million strong and growing with every passing
---
As per the latest reports, cryptocurrency trading in India has experienced a massive surge during the COVID-19 lockdown.
That's right! People are not alien to cryptocurrencies anymore. Investment interest is at an all-time high.
Altogether, with the rescinding of RBI's 2018 crypto banking ban, traders are no longer inhibiting themselves from participating in the cryptocurrency market.
Currently, the Indian crypto community is 5.5 million strong and growing by every passing day.
And India's Former Finance Secretary Mr. Subhash Chandra Garg himself acknowledged this fact, in a recent webinar. This is why he also suggested crypto assets to be regulated as commodities.
Want to be a part of the country's rapidly growing crypto ecosystem? Then, you should start by buying some cryptocurrencies, right away!
How and Where to Buy the Cryptocurrency of your choice?
In India, WazirX offers a smooth and seamless way to buy cryptocurrencies and plenty of cryptocurrency options to choose from.
First, you need to set up your account. For that, you will need to provide a valid ID proof for a mandatory KYC process and your bank account details.
It takes a few hours to verify the information shared from your end, after which you are all set.
You can go ahead and directly buy the cryptocurrency of your choice, using the funds from your bank account.
Why You Should Buy Cryptocurrencies from WazirX?
Acquired by Binance
In November 2019, Binance, the world's largest cryptocurrency exchange acquired WazirX.
This has made WazirX an international cryptocurrency market player which means that Bitcoin and crypto traders and investors from across the world will be able to use WazirX's digital asset platform.
Optimum Security
WazirX is India's most secure exchange. We're investing in regular security audits to ensure a highly secured trading platform for India.
Blazing Transactions
WazirX's system can handle 'millions' of fiat-to-crypto, crypto-to-fiat and crypto-crypto transactions.
Our infrastructure is capable enough to scale up in a few seconds to match surging demand.
Functional and User-Friendly Design
Cryptocurrency trading on the WazirX platform is a super-fast experience. The creators have already built technologies that are used by millions globally.
That experience has helped made WazirX a feature-rich but efficient crypto exchange.
Built by Blockchain Believers
WazirX is powered by a team of hardcore traders & passionate blockchain believers.
We understand exactly what your crypto needs are. Powerful graphs, mobile apps, etc are integrated features of WazirX right from the start.
Now Available Across 5 Platforms
WazirX offers a seamless and powerful crypto trading experience across all platforms – Web, Android, iOS, Windows, and Mac apps.
Opportunity to Own WazirX Token (WRX)
WazirX token or WRX is WazirX's native cryptocurrency token. By owning WRX you can earn rewards (in WRX) by executing crypto trades.
Also, in the future, WRX will prove useful in availing trading fee discounts, paying for margin fees, and more.
An Amazing Referral Program
With WazirX's trade commission program, you can earn as much as you want. You can refer your friends and earn a 50% commission on every trade they make. All commissions are credited within 24 hours.
Now you how to buy crypto assets, but just buying them is not enough. You must also know what's their future in India and across the world.
Future of Cryptocurrencies: In India and Abroad
India is shaping up to be a notable player in the global cryptocurrency realm. The country has the potential to contribute around $12.9 billion to the international digital currency market.
As per a widely cited research shared by the global banking giant, Deutsche Bank, India will experience an upsurge in the working-age population by 2030.
This means that as cryptocurrencies become more mainstream, professionals in the country will embrace digital assets in droves.
Also, according to the study governments across the world will begin to increasingly support cryptocurrency usage.
As the number of retail consumers using cryptocurrencies appreciates, blockchain wallets will see an uptick in downloads. And wallet adoption rates will proliferate in tandem with the number of internet users.
If current usage trends continue, there could 200 million blockchain wallet users by 2030, and close to 350 million by 2035 as per the graph below: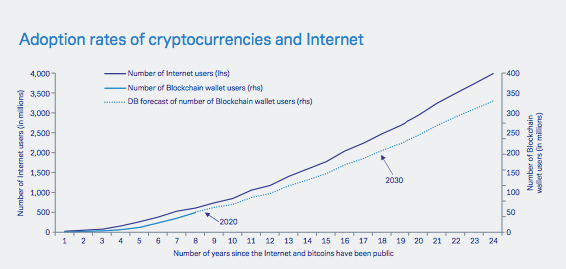 Forecast of Cryptocurrency and Internet Users, Source: Deutsche Bank
That's not all. The June 2020 Edition of Bloomberg's Crypto Outlook talks about ballooning market valuations of stable coins like Tether (USDT).

Originally published at www.wazirx.com
Latest Issue
September 2023
---
---
---
---
Most Read
---